It's not very often that I get a chance to talk with another ESL teacher who loves hip-hop just as much as I do! Jason R Levine, the ESLebrity also known as Fluency MC, is the Funkmaster Flex of the ELT world. He's been teaching and creating educational materials for over 15 years, and he's got a unique twist on the Lexical Approach. He teaches "chunks" of language  by writing and producing hip-hop music videos called ColloTunes. ESLhiphop.com wanted to learn more about Jason's experience as a hip-hop teacher, and he was more than happy to sit down and chat.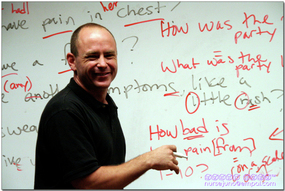 Do you consider yourself an ambassador of hip-hop?
I've certainly never thought of myself as being one, though I like the idea of growing into that role with more time and experience under my belt.
How did you get into teaching ESL in the first place?
I was in a PhD program in psychology where my focus was on identity development and learning in adolescence.  I dropped out to give the music business a try but soon discovered that I wanted to get back into education. I taught a bunch of young Central and South American immigrants in Brooklyn and then did the CELTA. I was hooked and went on to do an MA in TESOL.
Do you think hip-hop can be used to teach other subjects?
If you mean subjects like math and geography, I€™ve written a number of tunes for both. A lot of people have given it a shot; most of it is mediocre at best. The bar is pretty low. Genius from Wu-Tang has something coming out for teaching history, space science, and other subjects to high school students. That will no doubt blow all the other €˜edutainment€™ rap out of the water.
Your first YouTube video recently hit 1.25 million views. Have you ever expected it to become so popular?
Absolutely not, but I'm ecstatic that it has!
When you create music, do you make the beats first and then write the lyrics?
I'm always working on both and on many songs at once. In general, though, it's lyrics first and beats second.
Finally, can you give us some tips on choosing a good rap name?
As corny as it sounds, imagine the super-hero you€™d most like to be. It€™s all about finding your identity.
You can follow Fluency MC at WizIQ where he is Ambassador and Knowledge Entertainer. Also, follow him on Facebook and check out his website. WizIQ | Facebook | Website | YouTube | Twitter | LinkedIn
Discussion Questions
Do you have any follow up questions for Fluency MC? Please ask him in the comments below!